Notice
: Undefined index: http://www.bulkea.com/living-room in
/home/blogbulkea/public_html/wp-content/plugins/seo-automatic-links/seo-links.php
on line
317
Notice
: Undefined index: http://www.bulkea.com/bedroom in
/home/blogbulkea/public_html/wp-content/plugins/seo-automatic-links/seo-links.php
on line
317
Notice
: Undefined index: http://www.bulkea.com/dinning-room in
/home/blogbulkea/public_html/wp-content/plugins/seo-automatic-links/seo-links.php
on line
317
Notice
: Undefined index: http://www.bulkea.com/home-office in
/home/blogbulkea/public_html/wp-content/plugins/seo-automatic-links/seo-links.php
on line
317
Notice
: Undefined index: http://www.bulkea.com/living-room/out-door-792315575 in
/home/blogbulkea/public_html/wp-content/plugins/seo-automatic-links/seo-links.php
on line
317
Notice
: Undefined index: http://www.bulkea.com/ in
/home/blogbulkea/public_html/wp-content/plugins/seo-automatic-links/seo-links.php
on line
317
Notice
: Undefined index: Seasonal Color Schemes in
/home/blogbulkea/public_html/wp-content/plugins/seo-automatic-links/seo-links.php
on line
400
Notice
: Undefined index: Seasonal Color Schemes in
/home/blogbulkea/public_html/wp-content/plugins/seo-automatic-links/seo-links.php
on line
400
Notice
: Undefined index: Tips on How to Start Gardening in
/home/blogbulkea/public_html/wp-content/plugins/seo-automatic-links/seo-links.php
on line
400
Notice
: Undefined index: Tips on How to Start Gardening in
/home/blogbulkea/public_html/wp-content/plugins/seo-automatic-links/seo-links.php
on line
400
Notice
: Undefined index: Meet Our Vendors Part 4: Modway in
/home/blogbulkea/public_html/wp-content/plugins/seo-automatic-links/seo-links.php
on line
400
Notice
: Undefined index: Meet Our Vendors Part 4: Modway in
/home/blogbulkea/public_html/wp-content/plugins/seo-automatic-links/seo-links.php
on line
400
Notice
: Undefined index: 2015 Color Trends Around the World in
/home/blogbulkea/public_html/wp-content/plugins/seo-automatic-links/seo-links.php
on line
400
Notice
: Undefined index: 2015 Color Trends Around the World in
/home/blogbulkea/public_html/wp-content/plugins/seo-automatic-links/seo-links.php
on line
400
Notice
: Undefined index: How to Clean Your Garbage Disposal in
/home/blogbulkea/public_html/wp-content/plugins/seo-automatic-links/seo-links.php
on line
400
Notice
: Undefined index: How to Clean Your Garbage Disposal in
/home/blogbulkea/public_html/wp-content/plugins/seo-automatic-links/seo-links.php
on line
400
Notice
: Undefined index: Introducing The Darcy Sleeper Sofa in
/home/blogbulkea/public_html/wp-content/plugins/seo-automatic-links/seo-links.php
on line
400
Notice
: Undefined index: Introducing The Darcy Sleeper Sofa in
/home/blogbulkea/public_html/wp-content/plugins/seo-automatic-links/seo-links.php
on line
400
Notice
: Undefined index: How to Choose Artwork for Your Home in
/home/blogbulkea/public_html/wp-content/plugins/seo-automatic-links/seo-links.php
on line
400
Notice
: Undefined index: How to Choose Artwork for Your Home in
/home/blogbulkea/public_html/wp-content/plugins/seo-automatic-links/seo-links.php
on line
400
Notice
: Undefined index: 3 Steps to Update Your Laundry Room in
/home/blogbulkea/public_html/wp-content/plugins/seo-automatic-links/seo-links.php
on line
400
Notice
: Undefined index: 3 Steps to Update Your Laundry Room in
/home/blogbulkea/public_html/wp-content/plugins/seo-automatic-links/seo-links.php
on line
400
Notice
: Undefined index: New Arrival: Poundex 2-Pcs Sofa Set in
/home/blogbulkea/public_html/wp-content/plugins/seo-automatic-links/seo-links.php
on line
400
Notice
: Undefined index: New Arrival: Poundex 2-Pcs Sofa Set in
/home/blogbulkea/public_html/wp-content/plugins/seo-automatic-links/seo-links.php
on line
400
Notice
: Undefined index: How to style the Loraine Bedroom Set in
/home/blogbulkea/public_html/wp-content/plugins/seo-automatic-links/seo-links.php
on line
400
Notice
: Undefined index: How to style the Loraine Bedroom Set in
/home/blogbulkea/public_html/wp-content/plugins/seo-automatic-links/seo-links.php
on line
400
Notice
: Undefined index: 3 Easy Ways to Be Eco-Friendly at Home in
/home/blogbulkea/public_html/wp-content/plugins/seo-automatic-links/seo-links.php
on line
400
Notice
: Undefined index: 3 Easy Ways to Be Eco-Friendly at Home in
/home/blogbulkea/public_html/wp-content/plugins/seo-automatic-links/seo-links.php
on line
400
Notice
: Undefined index: 3 Ways to Keep Your Home Clean With Pets in
/home/blogbulkea/public_html/wp-content/plugins/seo-automatic-links/seo-links.php
on line
400
Notice
: Undefined index: 3 Ways to Keep Your Home Clean With Pets in
/home/blogbulkea/public_html/wp-content/plugins/seo-automatic-links/seo-links.php
on line
400
Notice
: Undefined index: 4 Daily Habits of People With Clean Homes in
/home/blogbulkea/public_html/wp-content/plugins/seo-automatic-links/seo-links.php
on line
400
Notice
: Undefined index: 4 Daily Habits of People With Clean Homes in
/home/blogbulkea/public_html/wp-content/plugins/seo-automatic-links/seo-links.php
on line
400
Notice
: Undefined index: How To Find The Best Beds For Small Spaces in
/home/blogbulkea/public_html/wp-content/plugins/seo-automatic-links/seo-links.php
on line
400
Notice
: Undefined index: How To Find The Best Beds For Small Spaces in
/home/blogbulkea/public_html/wp-content/plugins/seo-automatic-links/seo-links.php
on line
400
Notice
: Undefined index: How to Maintain Your Brand New Leather Sofa in
/home/blogbulkea/public_html/wp-content/plugins/seo-automatic-links/seo-links.php
on line
400
Notice
: Undefined index: How to Maintain Your Brand New Leather Sofa in
/home/blogbulkea/public_html/wp-content/plugins/seo-automatic-links/seo-links.php
on line
400
Notice
: Undefined index: Creative Modern Easter Egg Decorating Ideas in
/home/blogbulkea/public_html/wp-content/plugins/seo-automatic-links/seo-links.php
on line
400
Notice
: Undefined index: Creative Modern Easter Egg Decorating Ideas in
/home/blogbulkea/public_html/wp-content/plugins/seo-automatic-links/seo-links.php
on line
400
Notice
: Undefined index: 4 Desk Types That Best Fit Your Personality in
/home/blogbulkea/public_html/wp-content/plugins/seo-automatic-links/seo-links.php
on line
400
Notice
: Undefined index: 4 Desk Types That Best Fit Your Personality in
/home/blogbulkea/public_html/wp-content/plugins/seo-automatic-links/seo-links.php
on line
400
Notice
: Undefined index: 3 Ways You're Making Your House Less Organized in
/home/blogbulkea/public_html/wp-content/plugins/seo-automatic-links/seo-links.php
on line
400
Notice
: Undefined index: 3 Ways You're Making Your House Less Organized in
/home/blogbulkea/public_html/wp-content/plugins/seo-automatic-links/seo-links.php
on line
400
Notice
: Undefined index: Furniture Spotlight: The Danette Dining Server in
/home/blogbulkea/public_html/wp-content/plugins/seo-automatic-links/seo-links.php
on line
400
Notice
: Undefined index: Furniture Spotlight: The Danette Dining Server in
/home/blogbulkea/public_html/wp-content/plugins/seo-automatic-links/seo-links.php
on line
400
Notice
: Undefined index: Furniture Spotlight: The Estrella File Cabinet in
/home/blogbulkea/public_html/wp-content/plugins/seo-automatic-links/seo-links.php
on line
400
Notice
: Undefined index: Furniture Spotlight: The Estrella File Cabinet in
/home/blogbulkea/public_html/wp-content/plugins/seo-automatic-links/seo-links.php
on line
400
Notice
: Undefined index: Introducing the Barcelona Collection by Ashley in
/home/blogbulkea/public_html/wp-content/plugins/seo-automatic-links/seo-links.php
on line
400
Notice
: Undefined index: Introducing the Barcelona Collection by Ashley in
/home/blogbulkea/public_html/wp-content/plugins/seo-automatic-links/seo-links.php
on line
400
Notice
: Undefined index: Host a Memorable Dinner Party with These 4 Tips in
/home/blogbulkea/public_html/wp-content/plugins/seo-automatic-links/seo-links.php
on line
400
Notice
: Undefined index: Host a Memorable Dinner Party with These 4 Tips in
/home/blogbulkea/public_html/wp-content/plugins/seo-automatic-links/seo-links.php
on line
400
Notice
: Undefined index: Have a STAYcation| Make Your Home Vacation-Worthy in
/home/blogbulkea/public_html/wp-content/plugins/seo-automatic-links/seo-links.php
on line
400
Notice
: Undefined index: Have a STAYcation| Make Your Home Vacation-Worthy in
/home/blogbulkea/public_html/wp-content/plugins/seo-automatic-links/seo-links.php
on line
400
Notice
: Undefined index: How to Decorate With Christmas Lights in your Home in
/home/blogbulkea/public_html/wp-content/plugins/seo-automatic-links/seo-links.php
on line
400
Notice
: Undefined index: How to Decorate With Christmas Lights in your Home in
/home/blogbulkea/public_html/wp-content/plugins/seo-automatic-links/seo-links.php
on line
400
Notice
: Undefined index: 10 Home Office Desks for under $205 starting at $65 in
/home/blogbulkea/public_html/wp-content/plugins/seo-automatic-links/seo-links.php
on line
400
Notice
: Undefined index: 10 Home Office Desks for under $205 starting at $65 in
/home/blogbulkea/public_html/wp-content/plugins/seo-automatic-links/seo-links.php
on line
400
Notice
: Undefined index: Furniture Spotlight: Coaster Tully Upholstered Queen Bed in
/home/blogbulkea/public_html/wp-content/plugins/seo-automatic-links/seo-links.php
on line
400
Notice
: Undefined index: Furniture Spotlight: Coaster Tully Upholstered Queen Bed in
/home/blogbulkea/public_html/wp-content/plugins/seo-automatic-links/seo-links.php
on line
400
Notice
: Undefined index: How to Get in the Fall Spirit When It's Still Hot Outside in
/home/blogbulkea/public_html/wp-content/plugins/seo-automatic-links/seo-links.php
on line
400
Notice
: Undefined index: How to Get in the Fall Spirit When It's Still Hot Outside in
/home/blogbulkea/public_html/wp-content/plugins/seo-automatic-links/seo-links.php
on line
400
Notice
: Undefined index: How to Make Your Home Child-friendly Without Sacrificing Style in
/home/blogbulkea/public_html/wp-content/plugins/seo-automatic-links/seo-links.php
on line
400
Notice
: Undefined index: How to Make Your Home Child-friendly Without Sacrificing Style in
/home/blogbulkea/public_html/wp-content/plugins/seo-automatic-links/seo-links.php
on line
400
Notice
: Undefined index: Furniture Spotlight: Coaster Traditional Leather Executive Chair in
/home/blogbulkea/public_html/wp-content/plugins/seo-automatic-links/seo-links.php
on line
400
Notice
: Undefined index: Furniture Spotlight: Coaster Traditional Leather Executive Chair in
/home/blogbulkea/public_html/wp-content/plugins/seo-automatic-links/seo-links.php
on line
400
Notice
: Undefined index: Get an In-Depth Look on the Styles of 3 Famous Interior Designers in
/home/blogbulkea/public_html/wp-content/plugins/seo-automatic-links/seo-links.php
on line
400
Notice
: Undefined index: Get an In-Depth Look on the Styles of 3 Famous Interior Designers in
/home/blogbulkea/public_html/wp-content/plugins/seo-automatic-links/seo-links.php
on line
400
Notice
: Undefined index: Furniture Spotlight: Coaster Wheat Back Bar Stool with Fabric Seat in
/home/blogbulkea/public_html/wp-content/plugins/seo-automatic-links/seo-links.php
on line
400
Notice
: Undefined index: Furniture Spotlight: Coaster Wheat Back Bar Stool with Fabric Seat in
/home/blogbulkea/public_html/wp-content/plugins/seo-automatic-links/seo-links.php
on line
400
Notice
: Undefined index: Furniture Spotlight: Bobkona St. Croix Collection Vanity Set w/ Stool in
/home/blogbulkea/public_html/wp-content/plugins/seo-automatic-links/seo-links.php
on line
400
Notice
: Undefined index: Furniture Spotlight: Bobkona St. Croix Collection Vanity Set w/ Stool in
/home/blogbulkea/public_html/wp-content/plugins/seo-automatic-links/seo-links.php
on line
400
Notice
: Undefined index: Furniture Spotlight: The Furniture of America Saddle Brown Futon Sofa in
/home/blogbulkea/public_html/wp-content/plugins/seo-automatic-links/seo-links.php
on line
400
Notice
: Undefined index: Furniture Spotlight: The Furniture of America Saddle Brown Futon Sofa in
/home/blogbulkea/public_html/wp-content/plugins/seo-automatic-links/seo-links.php
on line
400
Notice
: Undefined index: Furniture Spotlight: The Coaster Darie Leather Sectional Sofa with Left-Side Chaise -$639.99 in
/home/blogbulkea/public_html/wp-content/plugins/seo-automatic-links/seo-links.php
on line
400
Notice
: Undefined index: Furniture Spotlight: The Coaster Darie Leather Sectional Sofa with Left-Side Chaise -$639.99 in
/home/blogbulkea/public_html/wp-content/plugins/seo-automatic-links/seo-links.php
on line
400
There's always a point between Winter and Spring where you're unsure of when Winter ends and Spring begins, and you feel like you're in an odd middle ground of still being in the midst of Winter while knowing Spring is just around the corner – which can prove to be quite the dilemma when it comes to home decorating. As time goes on, seasons only seem to come and go faster and faster, so why not get the most you can out of every season – even in the uncertain in between months. Read on to find out easy ways to gradually and tastefully transition your home into Springtime.
Glass Coffee Table 
One of the best parts of transitioning from Winter to Spring decor is the stark differences between the two that really make it feel like you're entering another season, unlike the all too similar Autumn and Winter. Swap out a bulky wooden coffee table with a glass one which comes across as more light and airy, making your space appear larger and more open while also being a prime location to let your long awaited spring decor shine. To allow for a more smooth transition, feel free to allow some of your winter decor remain and integrate classic spring decor like a vase of flowers into the mix.
We love our Vador Coffee Table with a reflective silver finished base with a whimsical and cheery curvature that will add a contemporary twist to your space.
A Soft Rug
Both in texture and shade, a soft rug can take your space to the next level with calming colors and cool tones to recreate your space from the floor up. Whether you choose to swap out an old rug or get a completely new one, an updated area rug for spring is a common favorite go-to with those wanting to make an impact when redecorating their home as a way to change the overall feel of the space – rug changes have the tendency to take your space from one season to the next in a snap.
We think our classic Hampton Area Rug fits the bill crafted with ultra soft Premium Wool and a seamless geometric pattern that softly stands out on a heather gray backdrop.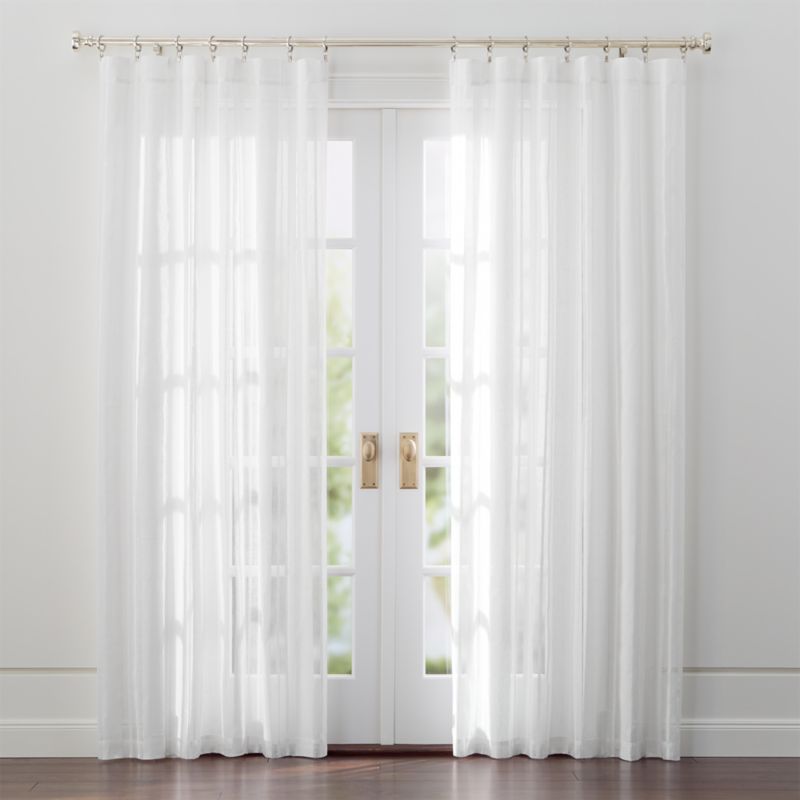 Sheer Curtains
The impending Spring Time means lots of sunshine flooding your windows and filling your home with natural light. Being a season that is a great middle ground between broiling hot and chilly, hanging up a few sets of sheer curtains is a great way to let in the light and make your home pleasantly brighter. Being in a transitioning period, there very well may be a few dozen more chilly nights up Mother Nature's sleeve, which is why it's never a bad idea to layer sheer curtains on top of heavier solid ones that you can peel back during the day time, letting your sheer curtains steal the show. The layering of solid and sheer curtains is also aesthetically pleasing and will add dimension to your home.