Notice
: Undefined index: http://www.bulkea.com/living-room in
/home/blogbulkea/public_html/wp-content/plugins/seo-automatic-links/seo-links.php
on line
317
Notice
: Undefined index: http://www.bulkea.com/bedroom in
/home/blogbulkea/public_html/wp-content/plugins/seo-automatic-links/seo-links.php
on line
317
Notice
: Undefined index: http://www.bulkea.com/dinning-room in
/home/blogbulkea/public_html/wp-content/plugins/seo-automatic-links/seo-links.php
on line
317
Notice
: Undefined index: http://www.bulkea.com/home-office in
/home/blogbulkea/public_html/wp-content/plugins/seo-automatic-links/seo-links.php
on line
317
Notice
: Undefined index: http://www.bulkea.com/living-room/out-door-792315575 in
/home/blogbulkea/public_html/wp-content/plugins/seo-automatic-links/seo-links.php
on line
317
Notice
: Undefined index: http://www.bulkea.com/ in
/home/blogbulkea/public_html/wp-content/plugins/seo-automatic-links/seo-links.php
on line
317
Notice
: Undefined index: Seasonal Color Schemes in
/home/blogbulkea/public_html/wp-content/plugins/seo-automatic-links/seo-links.php
on line
400
Notice
: Undefined index: Seasonal Color Schemes in
/home/blogbulkea/public_html/wp-content/plugins/seo-automatic-links/seo-links.php
on line
400
Notice
: Undefined index: Tips on How to Start Gardening in
/home/blogbulkea/public_html/wp-content/plugins/seo-automatic-links/seo-links.php
on line
400
Notice
: Undefined index: Tips on How to Start Gardening in
/home/blogbulkea/public_html/wp-content/plugins/seo-automatic-links/seo-links.php
on line
400
Notice
: Undefined index: Meet Our Vendors Part 4: Modway in
/home/blogbulkea/public_html/wp-content/plugins/seo-automatic-links/seo-links.php
on line
400
Notice
: Undefined index: Meet Our Vendors Part 4: Modway in
/home/blogbulkea/public_html/wp-content/plugins/seo-automatic-links/seo-links.php
on line
400
Notice
: Undefined index: 2015 Color Trends Around the World in
/home/blogbulkea/public_html/wp-content/plugins/seo-automatic-links/seo-links.php
on line
400
Notice
: Undefined index: 2015 Color Trends Around the World in
/home/blogbulkea/public_html/wp-content/plugins/seo-automatic-links/seo-links.php
on line
400
Notice
: Undefined index: How to Clean Your Garbage Disposal in
/home/blogbulkea/public_html/wp-content/plugins/seo-automatic-links/seo-links.php
on line
400
Notice
: Undefined index: How to Clean Your Garbage Disposal in
/home/blogbulkea/public_html/wp-content/plugins/seo-automatic-links/seo-links.php
on line
400
Notice
: Undefined index: Introducing The Darcy Sleeper Sofa in
/home/blogbulkea/public_html/wp-content/plugins/seo-automatic-links/seo-links.php
on line
400
Notice
: Undefined index: Introducing The Darcy Sleeper Sofa in
/home/blogbulkea/public_html/wp-content/plugins/seo-automatic-links/seo-links.php
on line
400
Notice
: Undefined index: How to Choose Artwork for Your Home in
/home/blogbulkea/public_html/wp-content/plugins/seo-automatic-links/seo-links.php
on line
400
Notice
: Undefined index: How to Choose Artwork for Your Home in
/home/blogbulkea/public_html/wp-content/plugins/seo-automatic-links/seo-links.php
on line
400
Notice
: Undefined index: 3 Steps to Update Your Laundry Room in
/home/blogbulkea/public_html/wp-content/plugins/seo-automatic-links/seo-links.php
on line
400
Notice
: Undefined index: 3 Steps to Update Your Laundry Room in
/home/blogbulkea/public_html/wp-content/plugins/seo-automatic-links/seo-links.php
on line
400
Notice
: Undefined index: New Arrival: Poundex 2-Pcs Sofa Set in
/home/blogbulkea/public_html/wp-content/plugins/seo-automatic-links/seo-links.php
on line
400
Notice
: Undefined index: New Arrival: Poundex 2-Pcs Sofa Set in
/home/blogbulkea/public_html/wp-content/plugins/seo-automatic-links/seo-links.php
on line
400
Notice
: Undefined index: 3 Easy Ways to Be Eco-Friendly at Home in
/home/blogbulkea/public_html/wp-content/plugins/seo-automatic-links/seo-links.php
on line
400
Notice
: Undefined index: 3 Easy Ways to Be Eco-Friendly at Home in
/home/blogbulkea/public_html/wp-content/plugins/seo-automatic-links/seo-links.php
on line
400
Notice
: Undefined index: 3 Ways to Keep Your Home Clean With Pets in
/home/blogbulkea/public_html/wp-content/plugins/seo-automatic-links/seo-links.php
on line
400
Notice
: Undefined index: 3 Ways to Keep Your Home Clean With Pets in
/home/blogbulkea/public_html/wp-content/plugins/seo-automatic-links/seo-links.php
on line
400
Notice
: Undefined index: 4 Daily Habits of People With Clean Homes in
/home/blogbulkea/public_html/wp-content/plugins/seo-automatic-links/seo-links.php
on line
400
Notice
: Undefined index: 4 Daily Habits of People With Clean Homes in
/home/blogbulkea/public_html/wp-content/plugins/seo-automatic-links/seo-links.php
on line
400
Notice
: Undefined index: How To Find The Best Beds For Small Spaces in
/home/blogbulkea/public_html/wp-content/plugins/seo-automatic-links/seo-links.php
on line
400
Notice
: Undefined index: How To Find The Best Beds For Small Spaces in
/home/blogbulkea/public_html/wp-content/plugins/seo-automatic-links/seo-links.php
on line
400
Notice
: Undefined index: How to Maintain Your Brand New Leather Sofa in
/home/blogbulkea/public_html/wp-content/plugins/seo-automatic-links/seo-links.php
on line
400
Notice
: Undefined index: How to Maintain Your Brand New Leather Sofa in
/home/blogbulkea/public_html/wp-content/plugins/seo-automatic-links/seo-links.php
on line
400
Notice
: Undefined index: Creative Modern Easter Egg Decorating Ideas in
/home/blogbulkea/public_html/wp-content/plugins/seo-automatic-links/seo-links.php
on line
400
Notice
: Undefined index: Creative Modern Easter Egg Decorating Ideas in
/home/blogbulkea/public_html/wp-content/plugins/seo-automatic-links/seo-links.php
on line
400
Notice
: Undefined index: 4 Desk Types That Best Fit Your Personality in
/home/blogbulkea/public_html/wp-content/plugins/seo-automatic-links/seo-links.php
on line
400
Notice
: Undefined index: 4 Desk Types That Best Fit Your Personality in
/home/blogbulkea/public_html/wp-content/plugins/seo-automatic-links/seo-links.php
on line
400
Notice
: Undefined index: 3 Ways You're Making Your House Less Organized in
/home/blogbulkea/public_html/wp-content/plugins/seo-automatic-links/seo-links.php
on line
400
Notice
: Undefined index: 3 Ways You're Making Your House Less Organized in
/home/blogbulkea/public_html/wp-content/plugins/seo-automatic-links/seo-links.php
on line
400
Notice
: Undefined index: Furniture Spotlight: The Danette Dining Server in
/home/blogbulkea/public_html/wp-content/plugins/seo-automatic-links/seo-links.php
on line
400
Notice
: Undefined index: Furniture Spotlight: The Danette Dining Server in
/home/blogbulkea/public_html/wp-content/plugins/seo-automatic-links/seo-links.php
on line
400
Notice
: Undefined index: Furniture Spotlight: The Estrella File Cabinet in
/home/blogbulkea/public_html/wp-content/plugins/seo-automatic-links/seo-links.php
on line
400
Notice
: Undefined index: Furniture Spotlight: The Estrella File Cabinet in
/home/blogbulkea/public_html/wp-content/plugins/seo-automatic-links/seo-links.php
on line
400
Notice
: Undefined index: Introducing the Barcelona Collection by Ashley in
/home/blogbulkea/public_html/wp-content/plugins/seo-automatic-links/seo-links.php
on line
400
Notice
: Undefined index: Introducing the Barcelona Collection by Ashley in
/home/blogbulkea/public_html/wp-content/plugins/seo-automatic-links/seo-links.php
on line
400
Notice
: Undefined index: Host a Memorable Dinner Party with These 4 Tips in
/home/blogbulkea/public_html/wp-content/plugins/seo-automatic-links/seo-links.php
on line
400
Notice
: Undefined index: Host a Memorable Dinner Party with These 4 Tips in
/home/blogbulkea/public_html/wp-content/plugins/seo-automatic-links/seo-links.php
on line
400
Notice
: Undefined index: Have a STAYcation| Make Your Home Vacation-Worthy in
/home/blogbulkea/public_html/wp-content/plugins/seo-automatic-links/seo-links.php
on line
400
Notice
: Undefined index: Have a STAYcation| Make Your Home Vacation-Worthy in
/home/blogbulkea/public_html/wp-content/plugins/seo-automatic-links/seo-links.php
on line
400
Notice
: Undefined index: How to Decorate With Christmas Lights in your Home in
/home/blogbulkea/public_html/wp-content/plugins/seo-automatic-links/seo-links.php
on line
400
Notice
: Undefined index: How to Decorate With Christmas Lights in your Home in
/home/blogbulkea/public_html/wp-content/plugins/seo-automatic-links/seo-links.php
on line
400
Notice
: Undefined index: 10 Home Office Desks for under $205 starting at $65 in
/home/blogbulkea/public_html/wp-content/plugins/seo-automatic-links/seo-links.php
on line
400
Notice
: Undefined index: 10 Home Office Desks for under $205 starting at $65 in
/home/blogbulkea/public_html/wp-content/plugins/seo-automatic-links/seo-links.php
on line
400
Notice
: Undefined index: Furniture Spotlight: Coaster Tully Upholstered Queen Bed in
/home/blogbulkea/public_html/wp-content/plugins/seo-automatic-links/seo-links.php
on line
400
Notice
: Undefined index: Furniture Spotlight: Coaster Tully Upholstered Queen Bed in
/home/blogbulkea/public_html/wp-content/plugins/seo-automatic-links/seo-links.php
on line
400
Notice
: Undefined index: How to Get in the Fall Spirit When It's Still Hot Outside in
/home/blogbulkea/public_html/wp-content/plugins/seo-automatic-links/seo-links.php
on line
400
Notice
: Undefined index: How to Get in the Fall Spirit When It's Still Hot Outside in
/home/blogbulkea/public_html/wp-content/plugins/seo-automatic-links/seo-links.php
on line
400
Notice
: Undefined index: 3 Easy Ways to Gradually Transition Your Home Into Spring in
/home/blogbulkea/public_html/wp-content/plugins/seo-automatic-links/seo-links.php
on line
400
Notice
: Undefined index: 3 Easy Ways to Gradually Transition Your Home Into Spring in
/home/blogbulkea/public_html/wp-content/plugins/seo-automatic-links/seo-links.php
on line
400
Notice
: Undefined index: How to Make Your Home Child-friendly Without Sacrificing Style in
/home/blogbulkea/public_html/wp-content/plugins/seo-automatic-links/seo-links.php
on line
400
Notice
: Undefined index: How to Make Your Home Child-friendly Without Sacrificing Style in
/home/blogbulkea/public_html/wp-content/plugins/seo-automatic-links/seo-links.php
on line
400
Notice
: Undefined index: Furniture Spotlight: Coaster Traditional Leather Executive Chair in
/home/blogbulkea/public_html/wp-content/plugins/seo-automatic-links/seo-links.php
on line
400
Notice
: Undefined index: Furniture Spotlight: Coaster Traditional Leather Executive Chair in
/home/blogbulkea/public_html/wp-content/plugins/seo-automatic-links/seo-links.php
on line
400
Notice
: Undefined index: Get an In-Depth Look on the Styles of 3 Famous Interior Designers in
/home/blogbulkea/public_html/wp-content/plugins/seo-automatic-links/seo-links.php
on line
400
Notice
: Undefined index: Get an In-Depth Look on the Styles of 3 Famous Interior Designers in
/home/blogbulkea/public_html/wp-content/plugins/seo-automatic-links/seo-links.php
on line
400
Notice
: Undefined index: Furniture Spotlight: Coaster Wheat Back Bar Stool with Fabric Seat in
/home/blogbulkea/public_html/wp-content/plugins/seo-automatic-links/seo-links.php
on line
400
Notice
: Undefined index: Furniture Spotlight: Coaster Wheat Back Bar Stool with Fabric Seat in
/home/blogbulkea/public_html/wp-content/plugins/seo-automatic-links/seo-links.php
on line
400
Notice
: Undefined index: Furniture Spotlight: Bobkona St. Croix Collection Vanity Set w/ Stool in
/home/blogbulkea/public_html/wp-content/plugins/seo-automatic-links/seo-links.php
on line
400
Notice
: Undefined index: Furniture Spotlight: Bobkona St. Croix Collection Vanity Set w/ Stool in
/home/blogbulkea/public_html/wp-content/plugins/seo-automatic-links/seo-links.php
on line
400
Notice
: Undefined index: Furniture Spotlight: The Furniture of America Saddle Brown Futon Sofa in
/home/blogbulkea/public_html/wp-content/plugins/seo-automatic-links/seo-links.php
on line
400
Notice
: Undefined index: Furniture Spotlight: The Furniture of America Saddle Brown Futon Sofa in
/home/blogbulkea/public_html/wp-content/plugins/seo-automatic-links/seo-links.php
on line
400
Notice
: Undefined index: Furniture Spotlight: The Coaster Darie Leather Sectional Sofa with Left-Side Chaise -$639.99 in
/home/blogbulkea/public_html/wp-content/plugins/seo-automatic-links/seo-links.php
on line
400
Notice
: Undefined index: Furniture Spotlight: The Coaster Darie Leather Sectional Sofa with Left-Side Chaise -$639.99 in
/home/blogbulkea/public_html/wp-content/plugins/seo-automatic-links/seo-links.php
on line
400
Victorian style furniture with reflective mirror panels, detailed nail head trim and complimented with button tufted leatherette accented throughout the pieces, this bedroom set has it all and comes in a stunning finished silver shade that is sure to take your room to a glamorous level – but how would you style it to fit your room? If you need some ideas, read on to see how we would incorporate the Loraine Bedroom Set to create an enchanting look.
The Loraine California King Bed
With a frame that sprawls far and wide in California King size, there is more than enough room to kick back, relax and feel like royalty. With such a big frame with gorgeous silver finish and mirrored panels galore, we feel like it will be able to speak for itself and would be complimented nicely with a more toned down comforter that would enhance this piece of furniture's appeal. Try something that is a crisp white, or white with silver accents to really bring out and draw attention to the finish of the bed, we really like white bedding with satin gray trim:
If you still want to be able to add some color to your bed, try adding colorful sheets to go under your comforter – you can fold the comforter down whenever you would like to breathe some color into your bedroom and it's a nice surprise that never gets old when you pull back your sheets to get cozy at bedtime.
The Loraine Dresser and Mirror Set
The perfect place to store your clothing and other belongings and primp before going out, the Loraine Dresser and Mirror Set has drawers designed in a mesmerizing geometric pattern complete with sturdy handlebar knobs. With soft leatherette padding on the inner drawers, this set is luxurious both inside and out. Place delicate accent silver or gold home decor on top of the dresser to really add to the Modern Victoria look ranging from a small statue to a jewelry box.
We love this silver ceramic vase from target where you can place plants to liven up your room a bit: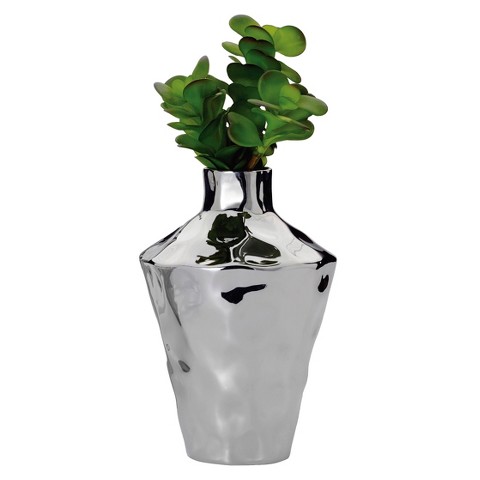 The Loraine Chest

A beautiful piece that towers above the others, the Loraine Chest's sheer size makes a enough of a statement all on its own. With the stylish bed combined with the decorations you placed on your dresser, adding home decor on this chest might be a little overwhelming and we think it looks best left bare with its sharply angled paneling that forms a beautiful rectangle frame alluding to a piece of art without any extra decorations.
General Bedroom Decor
Rug
We think a large rug goes great in any bedroom, and a bedroom with our Loraine set is no exception. We suggest going for a large, thin, flat rug that will add some dimension to your floor without taking away from the true spotlight of the room – the furniture. If you want to branch out from white, try almost any light neutral; a light beige, gray or even blue could do the trick.
Lamps
With such bold furniture made with a thick, sturdy design, we feel that lamps that are more on the thinner delicate side would compliment this bedroom set the best. We suggest ones with a black base accompanied with a white lamp shade to help them stand out and not get lost in your bedroom being so thin in comparison to the rest of your furniture. If you would prefer your lamps to fade in nicely into the background, you can also go with ones that have a silver base
Picture Frames
Pepper your bedroom with pictures of family and friends, artistic photographs or just plain art. Help them stand out with a thin black frame – we suggest nothing too thick unlike the lamps because the photos or art themselves should help in drawing attention, so they only need a slight boost to bee comfortably seen in your room.
Happy Decorating!